March 1, 2020 through September 26, 2020
2020 Donation Drive
February 25, 2020
My fellow German – Americans and Friends:
The United States of America is a "melting pot" comprised of settlers from around the globe and their descendants. One of largest immigrant groups to have settled in our great nation are the many Americans of German ancestry.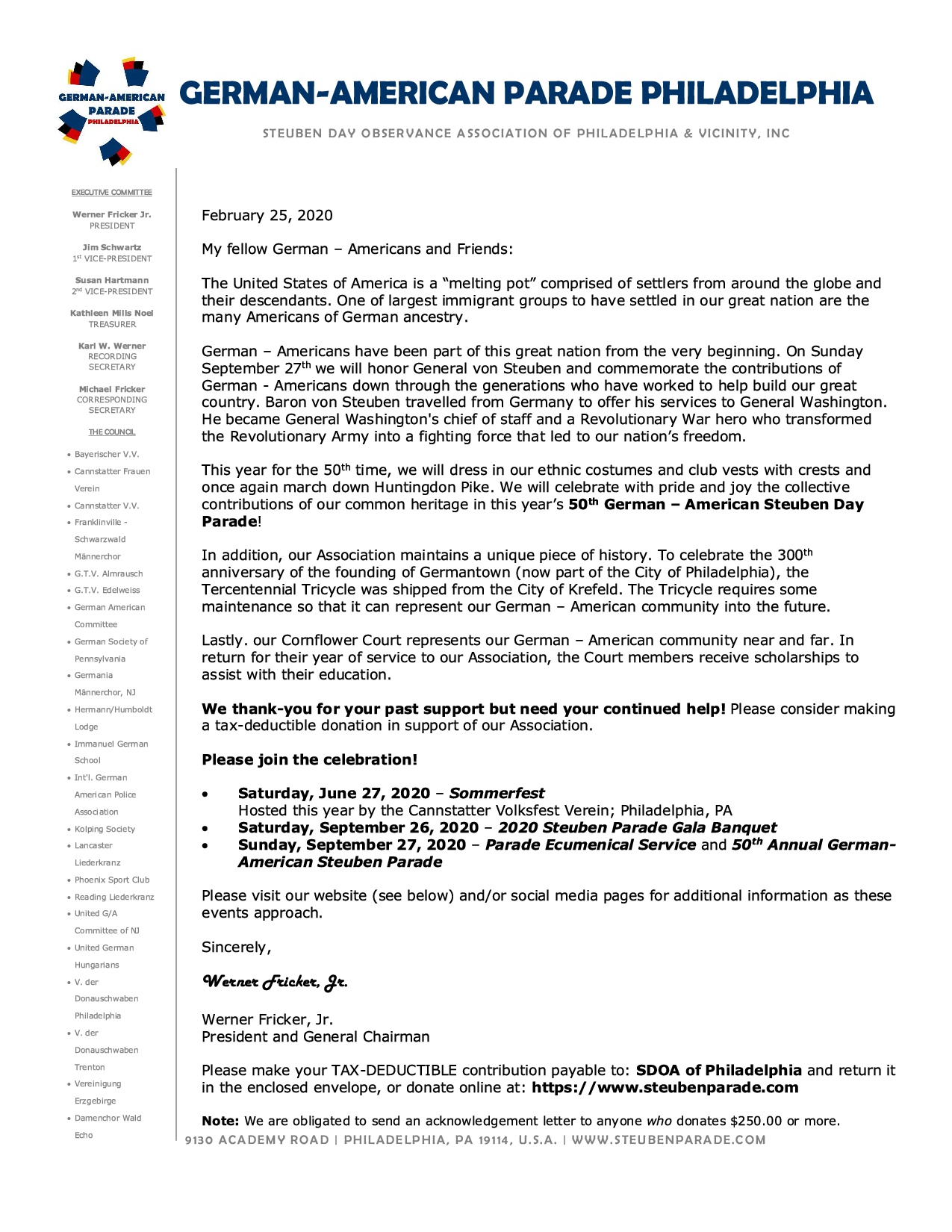 German – Americans have been part of this great nation from the very beginning. On Sunday September 27th we will honor General von Steuben and commemorate the contributions of German - Americans down through the generations who have worked to help build our great country. Baron von Steuben travelled from Germany to offer his services to General Washington. He became General Washington's chief of staff and a Revolutionary War hero who transformed the Revolutionary Army into a fighting force that led to our nation's freedom.
This year for the 50th time, we will dress in our ethnic costumes and club vests with crests and once again march down Huntingdon Pike. We will celebrate with pride and joy the collective contributions of our common heritage in this year's 50th German – American Steuben Day Parade!
In addition, our Association maintains a unique piece of history. To celebrate the 300th anniversary of the founding of Germantown (now part of the City of Philadelphia), the Tercentennial Tricycle was shipped from the City of Krefeld. The Tricycle requires some maintenance so that it can represent our German – American community into the future.
Lastly. our Cornflower Court represents our German – American community near and far. In return for their year of service to our Association, the Court members receive scholarships to assist with their education.
We thank-you for your past support but need your continued help! Please consider making a tax-deductible donation in support of our Association.
Please join the celebration!
Saturday, June 27, 2020 – Sommerfest
Hosted this year by the Cannstatter Volksfest Verein; Philadelphia, PA
Saturday, September 26, 2020 – 2020 Steuben Parade Gala Banquet
Sunday, September 27, 2020 – Parade Ecumenical Service and 50th Annual German- American Steuben Parade
Please visit our website and/or social media pages for additional information as these events approach.
Sincerely,

Werner Fricker Jr.
President and General Chairman
Please make your TAX-DEDUCTIBLE contribution payable to: SDOA of Philadelphia and mail it to:

Steuben Day Observance Association
of Philadelphia and Vicinity
P.O. Box 573
Montgomeryville, Pennsylvania 18936-0573

or donate online at: https://www.steubenparade.com
Note: We are obligated to send an acknowledgement letter to anyone who donates $250.00 or more.
Please consider using the button below to make your online donation via PayPal.